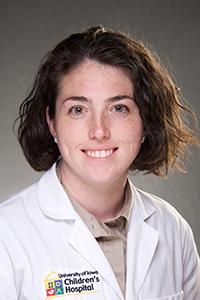 The Leona Cuttler award recognizes the best quality improvement abstract presented at the national Pediatric Endocrine Society meeting. We could not be more proud to announce that the 2019 winner of this award is our own fellow, Dr. Cat Pinnaro. Her abstract reported her work building an app to help pediatric residents learn how to manage ketones in children with diabetes. Dr. Curtis was the faculty mentor involved in this project. Together they are submitting this work for peer-reviewed publication. We also want to point out that Dr. Pinnaro's acumen for teaching residents is well recognized, as she was awarded the 2018 Stead Family Children's Hospital Fellow Teaching Award. Congratulations to Dr. Pinnaro on both these awards !!
Dr. Pinnaro at her poster at the PES 2019 national meeting

Drs. Kanner, Tsalikian, & Pinnaro as Dr. Pinnaro receives the Leona Cuttler award.